--
Justin Kaw: Today's September 1, 2009. We're doing an interview because the new record is coming out. Or it's already out. Is it already out?
William Cullen Hart: It's out now, for us. Not officially until the 8th.
J K: And it has been about exactly eight years since the previous album, so we could begin by talking about some of the things that led there to be such a long gestation period.
W C H: Well, the obvious... I've come to realize that I have multiple sclerosis. That's my excuse, if there is one.
J K: If I remember right, it was early 2007 you were diagnosed.
W C H: Yeah, figured it out. '99 is when the abrasions on my brain, that's probably when it started... maybe before—'98-'99. Looking at the brain scan... lizard bites, where the lizard bit my brain. I'm always talking about the dimensional lizards. (joking) You know the deal—we all know the dimensional lizards!
J K: That's when the dimensional lizards began to bite away at your brain. But there's been all sorts of delays though.
W C H: Yeah, I have a delay pedal right there.
J K: Those are important too.
W C H: That gives the trippy sound the kids want these days.
J K: They've wanted it for a long time...
W C H: Dimensional lizard with a delay!
J K: ...since Joy Division.
W C H: Oh! Wow! "Decades"! That song, over and over sometimes. It's one of the greatest things ever. One of the greatest productions. That album... I always thought the other was better, but came back to Closer recently, and was like, "I really don't know much of it." It's better.
J K: I agree. So when did the house start getting worked on? Was that before or after the Olivia Tremor Control reunion?
W C H: Good question.... Before... the reunion was '05.
J K: That took up a lot of 2005 right there.
W C H: Yeah, time passes by real quick, after age 20, or age 18.
J K: Age 30...
W C H: Exactly, thanks!
J K: Maybe age 25.
W C H: Thirty was the real stellar moment for me. Gun-in-mouth blues kind of thing. Just saying...
J K: That was 2001?
W C H: Yeah. Born in '71, a great year for music, in Germany.
J K: The diagnosis for M.S came not long after Will [Westbrook] died.
W C H: That's correct.
J K: December 2006.
W C H: Yeah, I started going blind in my right eye. "What the fuck?" Stress and sadness, I guess.
J K: You and Will had made music together for a long time. Wet Host.
W C H: That's his, solo.
J K: What was the stuff you guys did duo?
W C H: We were calling it Of. We wanted some simple thing like that, like Neu! It could've been Us. Something to make logo-esque things. It was musique concrète.
J K: The house started getting renovated because Kelly [Ruberto] bought it.
W C H: We were going to get kicked out.
J K: Oh, that's right. The landlord was going to...
W C H: They were going to make this into a parking space.
J K: You've lived here since 1996? Is that right?
W C H: '97.
J K: So, there's that. These things all sort of had a cumulative effect, in helping delay the record. Also, with the first album, if I remember right, you hadn't switched over to using comptuers all that much.
W C H: Actually, we'd call the computer a receptacle in this case. I'd obtained a 16-track digital. I'd use that, then take it over to Radium [Recording], and dump it on the computer, because I didn't have one. And sit there and go, "I want that down a little bit, I want this..."
J K: You didn't have a computer at home then.
W C H: The first one is really... I never listen to it, but when it comes up, it's pretty high-fi. I remember comparing it against Stereolab, Transient Random-Noise Bursts With Announcements, which is in such a limited space. Circulatory System is not as low-fi as I thought it was.
J K: It's more that it's a really dense album. The layers of parts, a lot of parts on top of each other.
W C H: Phil Spector-style. You know, the murderer.
J K: So, the first album you recorded digitally at home.
W C H: 4-track cassette as well.
J K: Yeah, didn't you do a lot of the drums analog still?
W C H: Yeah, 4-track cassette, a lot of the drum tracks.
J K: At some point you got a computer here at home. You're recording the second album by then?
W C H: Yes, not long after the first album had came out. A tiny windfall... I don't remember what that was from.
J K: So then you were recording more at home. Compared to past records—the Olivia Tremor Control albums as well—was Signal Morning recorded more at home in your own space rather than some sort of studio?
W C H: No, probably about the same. We'd record at different places. I can't remember exactly... The band is on 5 or 6 tracks. And the rest would be at home, adding tracks. (asking Nesey Gallons) How many tracks are the band on?
Nesey Gallons: The ones that were recorded by the band, rather than the band doing over-dubs... let's see... "Rocks and Stones, "Round Again," "Solid Forms Dissolving," "Moon Medium" I think.... "Overjoyed"—didn't you start that with a drum machine?
W C H: Well, "Overjoyed" I did on a cassette 4-track. The drum machine is one track, so I could play along with it. The only thing I used out of the drum machine was the super punchy... (makes beating sound)... so that's in there somewhere. Then two guitars.
Nesey Gallons: Then the band layered a bunch of stuff on there.
W C H: Is that a band?
Nesey Gallons: So, sort of, but not quite like the others.
J K: You have a few tracks that were recorded by the full band.
W C H: ...at one of the eight studios we list!
J K: It was such a long process that you don't remember exactly... ?
W C H: "Round Again" was done at Radium. That's Jeff [Mangum] and Hannah [Jones] playing drums. Just straight out, great playing. Awesome. We got it together for the tour. Went and played the tour.
J K: The 2001 tour, right after the first album came out, when Jeff was sort of a member of the band, temporarily.
W C H: Hmm, yeah. "Hey Jeff, we love you." That's when I wrote it. It was fresh then.
J K: So, "Round Again" is from that point, late 2001/ early 2002. Not long after that, Derek takes Jeff's place, the second drums, alongside Hannah.
W C H: For a while, I really wanted the double drummer, the Fall line-up.
J K: "The Classical."
W C H: The Grateful Dead.
J K: Allman Brothers... Pretty much, since the beginning, you've had yourself, John, Derek, Pete, Hannah until 2007, and Heather. The first time there was talk about the second album being completed, it was in 2004, because Heather was about to move to New York.
W C H: I have to say, no offense to anyone... I didn't say that. That was not...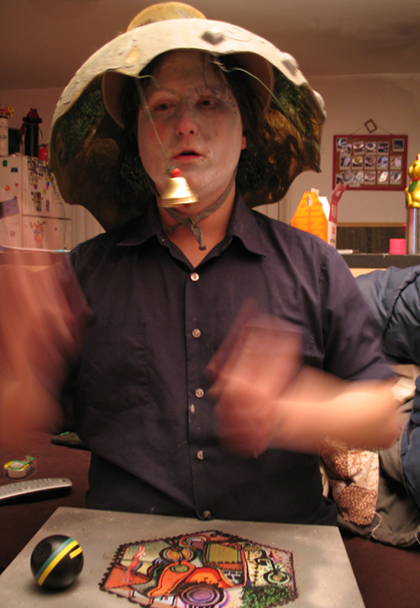 J K: There was hope, pressure maybe, that it would be completed, because you knew Heather wouldn't be around as much.
W C H: That's what it comes down to. It's understandable. To me, it just wasn't quite ready. Sonically, it wasn't ready. Everybody put up with a lot. It makes a lot more sense now. "What is your deal" They didn't say that, but I could see it, I could imagine that. "Are you just scared?" But that wasn't the case.
J K: As I was saying before, soon afterward, you had the distractions of the house being worked on, the Olivia reunion taking up most of 2005.
W C H: Good times. It made me really happy to have somebody be interested, some guy I had never heard of.
J K: Right, Vincent Gallo. You got to meet some interesting people... Yoko...
W C H: Didn't actually meet her. I was too scared. Bill [Doss, of The Olivia Tremor Control] went over and talked to her. Vincent Gallo had his mellotron shipped over. Flew it over. It was just in a room, with all kinds of stuff set up. Pete was playing mellotron. We didn't take it out, but it was fun to have a little jam room. Pointlessly great.
J K: That takes us up to 2006 almost. When you say that the record wasn't sonically there, were you working on it mostly by yourself at that point? Were there still recordings of the full band that came later?
W C H: There are twenty-something songs... There's so much stuff. Everyone was probably wanting me to pick, and stand behind it. I wasn't sure... Frank Zappa said the first six albums could be edited together, in a different order. I feel I could edit all the twenty remaining songs I have, plus this album, plus any of the Olivia stuff into a whole new thing. To me, it got confusing.
J K: The material all flowed together.
W C H: It got too close. When you've heard a mix 16,000 times.... We saved some of those for later.
J K: In 2006, Derek went through things, worked on the mixes.
W C H: He did tons of work. It was great.
J K: How did it come around then, getting into 2007, when Charlie [Johnston] began working with you on editing the album together, sequencing the tracks, mixing...
W C H: We were becoming good friends. Definitely have the same thing going on, sonically. Had my low-fidelity... whatever. However you want to put that...
J K: The mixture of the low-fidelity aesthetic, at least with regard to a Rock-band recording, with the electro-acoustic manipulations, the cut-ups, wanting to break the recordings apart, then put them back together.
W C H: Yeah. I just gave him a couple boxes of C.D's. You've seen the boxes—mixes. Maybe some of them being probable tracks, but "Here's a bunch of other shit too." Mixes I'd over-populated my own bandmates with at the time. "Pick one of the six!"
J K: They were saying that to you?
W C H: After a while. After three years. Not anyone specific. That would be annoying to me too.
J K: Comparing the first album to the new one, with the first, you have some long songs, with elaborate structures fully worked out. Towards the end of the record, you have more fragments; there's a reprise of a portion of one song, and a reprise of lyrics from "Outside Blasts." Nonetheless, the recordings, the electroacoustic parts—the working at home, editing it all together—came more in the form of layering stuff on top. With this record, there are more cut-ups. The songs are more in pieces. You have the song which was originally called "Blasting Through" with just the one part repeated in different aural settings. One song is about 20 seconds long. "Overjoyed" is two parts quite separate from each other.
W C H: "Particle Parades" is like that.
J K: Yeah, pieces of songs mixed in throughout the entire overlapping structure, whether or not there's a some sort of unifying concept.
W C H: It's interesting to hear your take.
J K: As you were trying to decide which mix to use, to get towards a completed album, some of your bandmates thought that maybe the songs sounded good. I assume they were comparing them to the first album. Well-recorded songs, that you had been performing live. And you had been performing live regularly in Athens during all this time. There was no extended period when the band didn't play live.
W C H: It's true. I thought the album was going to be finished. I thought it was just going to magically happen.
J K: Were you wanting to move in that direction, with the songs being in a state of disarray, of falling-apart?
W C H: Well, I asked Charlie and Nesey to try something. It's as simple as that. Somebody outside the band could step in, lend a hand. No-one was arguing, but...
J K: Charlie, and Suzanne [Allison] too, joined the band in 2007. Nesey comes to Athens with Julian [Koster] in 2008, with the new Music Tapes album coming out. And you guys do the Elephant 6 Holiday Suprise tour.
W C H: Yes, it helped boost my spirits. To see that people are still interested. I'm confused about the world. You'd used to try to get reviews, and that's all gone sort of, and I'm confused. But people still like us. They're kids—17, 18—coming out to shows. Elephant 6, really? Thank you! It's real. It was nice to have that.
J K: I've noticed with some of the articles now coming out, you'd think Circulatory System was coming back from a long break, that the shows that had been going on in Athens hadn't happened. People are excited about it.
W C H: I assume people have downloaded some live shows, if they're interested. Maybe they knew some of the songs, but maybe some of the songs aren't even on the record.
J K: Yes, there are a few songs that you've been performing live quite often that aren't on Signal Morning. Will the next album be coming from the same pool of recordings, just a different interpretation or sequence? Or is it going to be new stuff?
W C H: Yeah, good question. There's been talk. Nesey suggested that we have Sound on Sound, that I put out the rest of my entire catalog of unreleased material. Everything else I got. 5 C.D's. But really, come on! Nobody even buys shit anymore, do they?
J K: Edited together, though, like this new record is.
W C H: Yeah, not raw. One side would be the tropical side. "Tropical Electronic." It's fun to talk about.
J K: It could get people's attention, if it was 5 C.D's.
W C H: That's what he said too.
J K: Also you have the Toy Box project, which is going to be available soon. The idea there was...
W C H: I just have a little box where I keep toys, novelties, whistles and stuff. It's musique concrète, with toys. I wouldn't want to give anyone the idea that it's some kind of children's...
J K: So you finally finished that. A long-form electroacoustic work.
W C H: We threw some pop-esque melodies in there to balance.
J K: That'll be a tour-only release?
W C H: It's not being pressed.
J K: It's a C.D-R.
W C H: Rewritable even. If you don't like Toy Box just write over it. Just put a fucking Allman Brothers... I couldn't come up with something better than that. Desi Arnez...
J K: Let's go back to idea behind Black Foliage. There was an underlying concept that the songs were coming up out of the overall bed of sounds. The "animation music"—the sounds constantly shifting—with songs forming out of it then submerging back into it. This record seems closer to that than the first Circulatory System.
W C H: Yeah. It actually has a couple of out-takes from Black Foliage. "Signal Morning"... it's not an out-take, it's one of these songs I keep around. They're all my babies. But that's Eric playing drums. That was '98 maybe. The chop-up aspect came with handing it to other people, and giving them access to all this stuff. "Woodpecker Greeting Worker Ant," Charlie didn't know that from anything else. He said, "This should be first. It'll be great, not what anyone expects." Others in the band probably don't even know it. But we had all these songs we're playing; do I need to add another into it? You see what I'm saying?
J K: "Woodpecker" has a heavier sound.
W C H: In fact, it was on the same tape as "Giant Day." The next instrumental was that. Whenever I could, I'd just do a drum beat, and then make up a guitar part: make something to be added onto later. Those are both examples of that. And there are still more from '93 that I like. I had a certain guitar then that I sold. So it's possible nobody in the band had even heard it. I didn't want to throw anything else into the mix. It was already confusing for everyone.
J K: But you'd included it with the stuff you gave to Charlie.
W C H: Oh yeah, I gave him way more than he actually... I didn't realize. He believed in it, he worked his ass off. I was like, "Holy shit, man, sorry." We wouldn't see each other for a week. I figured he was doing his thing.
J K: You hadn't realized you had given him...
W C H: So much material. It was overwhelming. I could've given him one box... but if I liked what they did, if someone else gave me so much, I would go through it. I'm a good editor as well. I could go through Jeff's material. Hint hint, Jeffrey Nigh Mangum.
J K: Let's go back to those days. When did you and Jeff started doing tape music at home?
W C H: We were in high school. We got a job at the college radio station, K L P I.
J K: Louisiana Tech.
W C H: It was really life-changing. We had access suddenly. In a year, I was doing the Punk/ Hardcore show. Started off with Big Band. There was a library back to '68. "Wow!" We started getting into Free Jazz. There it was!
J K: Around that time, when you were still in high school, you were not just making songs at home, on cassette, but the more experimental stuff as well, teaching yourself how to make musique concrète.
W C H: Yeah, without knowing that.
J K: When did you become aware of that kind of music—Stockhausen, Pierre Henry, and so on?
W C H: Well, it took until after I left Louisiana. I remember trying to find Stockhausen in the mall. There was nothing of course. There was, in that same town, in Monroe, there was a small shop. Bill [Doss, of The Olivia Tremor Control] got John Cage, Indeterminancy, the two C.D's, there. That helped change the mind. Music From the Body, Ron Geesin and Roger Waters—Jeff got that somewhere. That's musique concrète. Plus, all the elements that make up what I grew up with—Pink Floyd, Frank Zappa—they used that kind of stuff. I just didn't know the proper term.
J K: Many still think of Elephant 6, and they'll refer to The Beatles, The Beach Boys. But they won't refer to Frank Zappa or Pink Floyd or...
W C H: Faust.
J K: The White Noise, The United States of America... more of a fusion of popular music, songs with...
W C H: ...Sound-crafting, floods of different things.
J K: That was always at the forefront.
W C H: For Black Foliage, for sure.
J K: Even with The Giant Day E.P, it's pretty cut-up.
W C H: That one came naturally. On my part, I was saying, "Let's do this jump-cut kind of shit."
J K: Only with Black Foliage then is there more of a willful looking-back to those artists, trying to do something similar.
W C H: And to try to move it on somewhere. That's the thing: in the middle of a perfectly-crafted pop song, to drop it in a bunch of bees, things like that.
J K: Even in the current cultural milieu, with Animal Collective or Atlas Sound, there's still this notion that if a group is popular as a Rock band does other kinds of music, that it's just dilly-dallying.
W C H: Like Radiohead?
J K: They get away with it more because it's seen as a turn toward Electronica. If you give people a good story.... But if you say it's all mixed together all the time, there's no switch to and fro, there's no great story here about rejecting Rock-and-Roll...
W C H: I personally want both bands I'm involved in, The Olivia Tremor Control and Circulatory System, to be Rock bands, Psychedelic Rock bands even! With trippy effects for your mind. Whatever—sonar effects for your brain dazzles.
J K: For the brain lizards.
W C H: There're just sonar effects for the brain lizards! I ask you: are these Rock bands or not?
J K: They are.
W C H: I think so. I want them to be, and I need to make up for that if they're not. It's not Kiss.
J K: Well, "Detroit Rock City," it's not musique concrète, but it comes close. Is it Cranberry Life Cycle you're going to put out? It's you and Jeff.
W C H: I wish, it might come out.
J K: What about the things with Will Westbrook? There are recordings there you'd like to put out?
W C H: Yeah, totally. We're going to piece it together. It was basically done. 28 tracks. He agreed, just needed a couple of pauses.
J K: What about Wet Host?
W C H: Yeah, he has a finished thing... called The Fixed Document.
J K: Those might come out on Cloud Recordings?
W C H: Homemade style.
J K: C.D-R releases.
W C H: That was already done. I knew about The Fixed Document. I think he couldn't find it for a long time. Now that he's gone, we found it. I remember hearing it quite a few times in the background. It's an observation book. I don't know what he wanted to use for the cover, but he has so many photographs. I'll try to use something from the same period.
J K: Were there duo projects with John or Bill similar to those with Jeff and Will?
W C H: I lived with Bill at the time of the Cranberry Life Cycle, at what we called the Hazel Street Wonder Studios and Ice Cream Factory.
J K: That's in Ruston?
W C H: Yes. Bill was either at school or working... so Jeff would came by, then Bill would show up...
J K: So Bill is on the Cranberry Life Cycle recordings as well. The stuff you and Bill did together just flowed into The Synthetic Flying Machine, The Olivia Tremor Control?
W C H: Yeah. Cranberry Life Cycle was just a fun project for us. Jeff and I, from a few years before that, had gotten to the point where you don't even have to say anything. Bill and I really don't either, but a certain communicative thing was happening with Jeff.
J K: You and Jeff had been making music together longer.
W C H: Yeah. We met Bill through Robert Schneider [of The Apples (in Stereo)].
J K: In high school?
W C H: Yeah, my last year in high school. He was in college, he's older.
J K: He and Robert had known each other longer?
W C H: Yeah, he and Robert had been in a band together, Fat Planet. Some originals and some covers. The couple originals, I'm telling you, were great.
J K: They've never been released?
W C H: No, but I'm pushing for it. "Warm Milk and Chocolate" is one.
J K: You and Bill, when you've played together recently, or when you've played with Robert at the Marbles gigs, there's been this revisiting of older material.
W C H: That noboby else even knows.
J K: Similar to how you've used the "Woodpecker" song on this new album. There's the fact that there's this huge library of recordings to draw upon ever seem like a burden to you?
W C H: Yes, that's why I included them when I handed the music over to someone else. It was exciting to see, for one, that I loved the product. And... I know something like "Woodpecker" so well, but what's it going to cut into? Is it going to fade into something?
J K: Does it discourage making new recordings?
W C H: No. I just amass stuff. I'm just adding stuff.
J K: It never ends.
W C H: It's confusing maybe, for my bandmates. "Pick 12 things, or 16 things even."
J K: This relates to the aging issue. You were bogged down by The Olivia Tremor Control breaking up. The band had gotten a lot of attention fairly quickly in 1996, only then to have not as many people like Black Foliage as much, they wanted something more accessible. While dealing with Will Westbrook dying and M S, to have this growing collection of recordings to choose from, it was a lot.
W C H: It became too much for me, to be honest. I was glad for the help. I thought that some of the other recordings that weren't the full band might be better. I couldn't stand up for that. "Hey, I like this one that's just me." That's ass-y!
J K: With Nesey, you did the same kind of thing as with Charlie. Was it more of a finished product at that point?
W C H: No, same deal. "Make something out of this."
J K: You and Charlie decided upon the first half of the record?
W C H: Nesey switched some stuff around on the second part of the first half.
J K: So when he came in, you had a rough sketch of what the first half would be like.
W C H: He had an idea, as it stands now, a story running through it.
J K: A story about you?
W C H: Maybe it's me. You have to ask Nesey. I can't... I don't want to go into it because it may or may not be me. He placed them so that it was a story. A story of a person going through... then on the second side, they're questioning... at the end, "anchor yourself in the sun"—the last thing, "Signal Morning." It's beautiful.
J K: So Nesey put the songs in such a way that...
W C H: It helped tell my story—part of my story, part of our story.
J K: Well, I wanted to look more closely at the lyrics, first album as well as this new one.
W C H: To me, the Olivias into Circulatory, I can see something throughout the whole thing now. It could be reinterpreted, like I said with Zappa. But I love what happened. Nesey should get credit for that.
J K: It's hard for you to separate the Olivia stuff from Circulatory System, much like you can't separate the band recordings from those you did on your own, or older recordings. There's no point to it really.
W C H: But I'm getting back to normal, in my working methods, to where I might want to step in and say, "I like this one better."
J K: What do you think you write about, literally? Lyrically... There's a lot about time. History, nostalgia perhaps.
W C H: It's me questioning, but I believe in it truly, that there are other dimensions. It sounds so silly!
J K: Other temporal dimensions, at the same time as... ?
W C H: As now. Yeah, we could've... not we, we didn't fight World War II. But it could've ended up a different way. You can walk out and get hit by a car, or I can walk out down the road. There's different things that could happen.
J K: It's more like alternate histories, potential histories.
W C H: Kind of.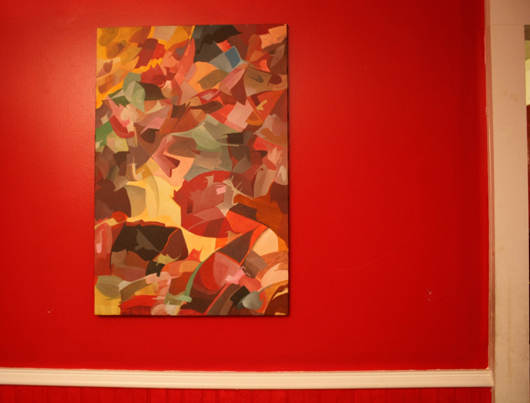 J K: When I was looking through the lyrics for both albums, the emphasis on time took on this idea, not so much alternate histories... rather, that past times and future times are present as well.
W C H: That is exactly what I believe, honestly.
J K: With "Yesterday's World," you talk about taking the present time into the past. Whereas some people, if they hear that song, they might think, "There's the neo-Psychdelic band talking about yesterday's world and how nice it was."
W C H: Oh God, really? Like the Sixties or something? Oh wow, no.
J K: People working with stereotypes of Elephant Six.
W C H: I never would've thought of that. I'm not trying to say anything in any way about Woodstock. Altamont, sure.
J K: Maybe it's because of my own experiences, listening to more and more, being just as likely to listen to something from 1971 as something from 2009.
W C H: Same with me, the year I was born until now.
J K: Or 1979, the year I was born. A good year.
W C H: Not as good, but still... just saying.
J K: There was a lot that was in '71.
W C H: '71 wasn't that great, but still, Neu! Can I just say Neu! got started in '71?
J K: Faust. Cluster. Tago Mago.
W C H: O K, all the German, what was sadly dubbed Kraut Rock.
J K: Zeit came out that year.
W C H: Double album! Great Space Rock!
J K: Both Circulatory System albums also have the imagery of going around in circles. Time is cyclical. A non-teleological perspective, a non-Christian perspective. Everything's repeating.
W C H: I think so. It's just that, "Do you ever learn from your mistakes?" Like Royal Trux, "Back to School," you climb to the top of the hill, you know you're going to fall. It's cyclical in that way. I fell in love. It fell apart. Big surprise! It's fine. In that way, Circulatory System is all about failure. I'm kidding! I hope it's hopeful, really.
J K: I guess it is done in light of past projects, splitting apart... The Olivia Tremor Control.
W C H: Yeah, sigh. The time thing... I really don't have a definite theory. Religions, stuff like that. I can... O.K, sure, Jesus walked the earth, that kind of thing. But it's not really filling me up with much of anything. Tao te Ching is kind of my religion really. But I don't consider that a religion, it's observation of how things are. That George Harrison song ["Inner Light"], "Without looking out of my window, I could know the ways of heaven. The farther one travels, the less one really knows."
J K: That's a theme in the lyrics. Everything's available, in your mind, in your own space.
W C H: I'm putting that out there.
J K: You could place yourself in different contexts in the past. One way of looking at it: you imagine the past. Even though it did exist, it doesn't exist anymore, so it's fictional. So thinking about the past is the same as thinking about the future.
W C H: I agree. It's all free rein of the imagination, except I do stop myself, within certain realms.
J K: Where do you stop yourself?
W C H: Surrealist cut-ups.
J K: You avoid it—applying the cut-up method to lyrics, as compared to the recording process?
W C H: Not to leave it at that. That's a method of coming up with things.
J K: Yeah.
W C H: I didn't realize I did it, but I do.
J K: If you have such a huge library of recordings you're coming back to, that introduces a certain randomness. You could be listening to one tape, where you don't know what you're going to come across. It'll end up being mixed together with something that you were thinking about earlier.
W C H: Good call, yeah, I played it back that day, and suddenly I come up with lyrics for the first song, "Woodpecker Greeting Worker Ant."
J K: The words for that song were something you wrote recently?
W C H: 2001 maybe.
J K: 2001, based upon the original track from 1993...
W C H: I have maybe 5 or 6 more that are on that same tape. In case I'm in the mood, if I feel like making up lyrics.
J K: Has the way you write lyrics changed over the years? Has the subject matter changed?
W C H: Yeah, I guess it has. (joking) Where are the candied-castle Cubist boys? Whatever that was. I'm kidding. I love that. It really hasn't changed, except that it was different for the first Circulatory System album especially. I was going through different times.
J K: It was more of a somber record.
W C H: But it's hopeful, I think, even though... Some people say it's a dark record. Cool, it kind of is. Hopefully it's positive in the end. "We can live forever."
J K: Maybe there's more nature imagery, and references to materials. "Grains and sauces," bark. But that's probably been the case since when you first started.
W C H: That was the stuff I was writing for what would've been the next Olivia. We played some of the songs.
J K: Do you catalog lyrical ideas? Words to use...
W C H: "Acrobat" is my new favorite one. I haven't used it.
J K: Bark shows up twice: "waves of bark and light, "the bark and below it." It stands out. When any vocalist in Rock music does anything somewhat "arty" with the words, it'll end up sounding what many call pretentious. Do you worry that it'll seem didactic if you state clearly what you think, how people could think?
W C H: Not really. My shit comes off like that. "What is this guy on about?" It does, it's fine. I can't do anything about it. It's just supposed to be fun. It's supposed to be real. I learn that kind of stuff from, for example, Zappa. We're here, we may as well create to the fullest. But, he's kind of ass-y. So I might come off like that.
J K: Not compared to Zappa, no. Does your painting affect the lyrics? There's imagery in the lyrics suggesting, or referring to, visual art.
W C H: The paintings are a lot more spontaneous, compared to the songs. Sometimes I'm not even starting with a goal. Whereas when I'm playing music, I have to section it off: "Is it going to be sound, or a riff, a song?"
J K: It makes sense then that there's references to the paintings in the music, or there's paintings that match the music.
W C H: I like it that way.
J K: With the paintings, do you find that music will affect the content?
W C H: Yeah. Usually it does just because... it's me. I can't...
J K: But you don't obsess over them like with the music.
W C H: No. If necessary... I haven't had a new period in a long time, a new phase. Since Black Foliage [the painting], that breakthrough. I've been into drawings.
J K: You've tried some collages. Also, around the time of Black Foliage, you were going toward abstraction, but you've returned to some representative work.
W C H: Definitely. I'm maybe going to do the cover for Pete's [Pipes You See, Pipes You Don't] new album, Lost in the Pancakes.
J K: When you say you haven't entered into a new phase of painting... With music, it's easier when you're finished with an album or some other project, it enables you to take a big chunk of recording and put them aside, say, "Now I'm done with those."
W C H: It's a period, it's done.
J K: Going back to the lyrics... "Bark" shows up on the last Olivia record, and the first Circulatory. Circles, going round, come up on both Circulatory records. And "blasting" too.
W C H: That's a favorite word. I was just trying to get through something. I was really trying, really hurting. Come out streaming, and happy.
J K: In addition to health problems and personal problems, there's the problem of finding the appropriate outlet, or venue... forum for the music. The Olivia Tremor Control not staying together... or, maybe they have...
W C H: We're back, we were always there. At least for me, my part of all that connects into these records. "Signal Morning" could've been on Black Foliage. There's a couple more from that period.
J K: You've reached a point where all these projects can co-exist. Circulatory System coming back, The Olivia Tremor Control existing again, maybe the Cranberry Life Cycle record coming out. When the first Circulatory System record came out, I remember Jeff telling me that you and he hadn't done as much as you should've in collaboration. Never got around to it.
W C H: I agree, we haven't yet.
J K: Looking back again.... When The Olivia Tremor Control started, you had a situation like you have now. There was a big back-log of stuff. You wanted to get it out there, you had the opportunity. Who came up with the idea of The Black Swan Network?
W C H: I did. To have another outlet, that wouldn't be judged as this band that made songs.
J K: A proactive response to the restraints people would try to place on the music.
W C H: Some people just can't get into that kind of music, sound art. It's boring, to some people.
J K: One time Black Swan Network opened for Olivia Tremor Control, which brings to mind the early Circulatory System tours, with The Instruments and Pipes You See, Pipes You Don't, all three bands having the same members.
W C H: It'll be a little different this time. Pete's new record is awesome. It's focused, heart-felt great songs.
J K: It's great that it's finally done. He was having problems with his 4-track.
W C H: Yeah, and his computer wasn't working. Things happen.
J K: You guys already had problems with recording devices during Black Foliage.
W C H: Peeling the magnetic tape off.
J K: Really?
W C H: It happened with Rumours. I wonder if it was the same tape. Possibly. They made some weird batches. If it gets hot in storage, and/or from going over and over and over.
J K: That reminds me... on the subject of the transition from working with tape to working with computers, on the surface it seems easier. For artists who want to make use of so many tracks, surely it is. But I know you had problems with being able to manipulate things so easily all at once.
W C H: That's a lot to throw at a new band, and for us even. Digital—0's and 1's—takes a picture of sound, the way it is—flat—but the things that I like, like the 4-track cassette, color it. You overblow it. You can do that on digital, but it doesn't sound as cool. It kind of does actually, but harshly.
J K: When it's saturated, it doesn't sound as nice.
W C H: If for kids, their first recording machine is digital, they miss alot.
J K: It's unfortunate if people don't start with cassettes.
W C H: It does seem like people are getting into the old equipment, all the compressors. They're using all that great equipment, going into the computer, which sounds great.
J K: It's better to mix them together. Are there any kinds of manipulations of sound that you do in analog that you don't enjoy doing in digital, you don't like the way it sounds digitally, or you can't do at all digitally?
W C H: No, you can, but it's not as easy, and it's not as rewarding actually. It's a process... I can tell the difference somehow. It's a feel thing.
J K: The sonic result, as well as the process.
W C H: I have to do something else to make it what I feel.
J K: Does being a painter make you prefer having something tangible to work with?
W C H: Definitely... well-put. You can get these things for the computer...
J K: Fake analog synthesizers, digital recreations.
W C H: We use fake mellotrons, on "This Morning (We Remembered Everything)."
J K: We've both listened to a lot of the Japanese electronic music, the quiet, minimal stuff... Onkyo music.
W C H: Love it. Empty sampler [Sachiko M].
J K: And the no-input mixing board—Toshimaru Nakamura.
W C H: That shit's good. He's good.
J K: Did you see that music as a challenge? They're playing the no-input mixing board and the empty sampler, and you're here struggling to finish a record with all these tracks, and this huge library of music. But it's music you like. The contrast is striking.
W C H: Yeah. The one he made when he had a fever [Vehicle]... I used to leave it on constantly. Just repeat one. It's not like hearing the same song.
J K: You did the track on the Peel session disc [The Olivia Tremor Control, Those Sessions], the extra track, that was in the style of Onkyo music. And the Silver disc....
W C H: The Silver thing was more Fluxus. It's something you want to listen to in the background, and then play an album besides it. That was the idea.
J K: The experiments in quadrophonic sound were also not just for the sake of having something in quadrophonic sound. As you said with Silver, the idea that you could play two things at once, getting the idea from John Cage to some extent...
W C H: Exactly, he said if you're going to play one of my records, since it doesn't recreate the live experience, you should play two or three, to give you an experience.
J K: One could have more than one stereo set up all the time. With online streaming, you could have 24-hour albums... or perhaps a computer program, where you put in music and it manipulates it endlessly, or you could set it to last a certain amount of time. Why not release more stuff like that?
W C H: I have this in a notebook somewhere: 4 C.D's, 99 tracks. Put each of them on random. But there's enough silence in between them—but sometimes not—to space them all out.
J K: Each C.D would have 99 tracks, or there'd be a total of 99 tracks?
W C H: Each C.D would have 99 tracks.
J K: There'd be differing lengths of silence on each track.
W C H: Or some would be full.
J K: The idea being that one's going to play all 4 discs at once.
W C H: Yes, and it's to be played on random, all of them, so it's always something different.
J K: So, putting them all on at the same time, not on random, wouldn't be the original composition. There'd be no original.
W C H: Exactly.
J K: In that case, there'd be no disc 1 or disc 2, just four discs, not in any order.
W C H: Maybe they should be color-coded. Each disc would draw upon the same source material... it has to be.
J K: How much recording have you done for this?
W C H: I didn't get to the point. I'd have to have help. I've got lots of minimalist things I'd use for it.
J K: Are there any other projects, similar to Toy Box that have been on hold?
W C H: I want to do more fun things, noise and Dada-speak. Not totally noise... Lumpy Gravy really—Futurist Onion.
J K: You want to do stuff that builds off of The Black Swan Network and Circuits and "The Bark and Below It."
W C H: Yeah, maybe the seven-inch by Black Swan Network, on Happy Happy Birthday to Me [an untitled E. P released in 2000]. It's got songs... those could've been on the first Circulatory System record. They were done at the same time. They were just different.
J K: You need to start doing these.
W C H: I'm getting there. I'm getting back up there.
September 2009